NEW Location and Mailing Address
44 Cook Street, Suite 100, Denver, Colorado 80206
Denver Bankruptcy Lawyer, Matt Berkus Can Help You Get Out of Debt While Protecting Your Assets...
Struggling with personal debt or business debt can involve incredibly difficult practical and emotional challenges.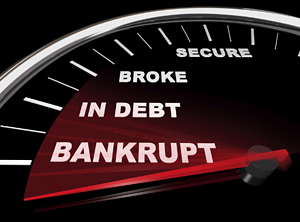 You may be unable to pay bills due to job loss or a decrease in income. It could be a downturn in your business due to the state of the economy that has drastically cut your income. You may be receiving harassing phone calls from creditors or facing possible judgments. You may be falling behind on your mortgage and facing foreclosure, or it could be your credit card bills are growing out of control.
Financial stress is one of the most difficult types of stress people experience, in part because our society places such value and importance on financial well being and success.
Most people struggling with debt feel they have no one to turn to for help or even to talk. Fortunately, the solution to all the problems personal or business debt creates is much easier to find than most people ever imagine. You can talk to a dedicated bankruptcy attorney who knows how to help you deal with your financial stress. You can find out what your options really are so you can get back to square one and start moving forward again.
There IS a Solution for Getting You Out of Personal and Business Debt!
No matter how desperate you believe your situation is or how badly you feel today, it is entirely possible to feel better. The solution to your problem starts with one question: "If you didn't have this debt, what would you be doing?" The answer to that question will allow you to identify your personal goal. You can then adopt and follow a plan that will enable you to achieve that goal.
Your goal is the vision that will put you back on the path to success and solve the financial challenges you're facing today!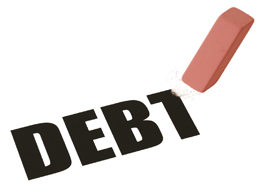 Imagine how much better you'll feel when you can think about and answer the question, "What would I be doing if I wasn't paying these credit card bills? What would I be doing if I was completely out of debt in the next 3 to 4 months, or the next 3 or 5 years?" When you can answer that question, a plan for reaching your goal will easily fall into place.
Your goal will guide a plan that involves a solution. This solution may encompass a bankruptcy that helps you get out of debt as quickly as possible. It could involve a negotiated settlement depending on your ability to pay something to your creditors. Whatever solution your plan involves, it will be designed to get you out of debt in the shortest amount of time possible so you can start achieving your goals and live a less stressful life.
If You're Ready to Deal with Your Personal or Business Debt Once and For All…
The first thing you must do is realize and accept that you have options. You must also realize there's someone who can help you understand your options and how each one works.
That person is Matt Berkus, Matt is Denver's Debt Doctor, a Denver based bankruptcy lawyer with the knowledge and expertise you need to get out of debt. Whether you work with Matt or learn from his knowledge to tackle things on your own…he will help you lay out a plan to actually achieve your goals.
Give Denver bankruptcy attorney, Matt Berkus a call today at 720-545-0339 to discuss how he can help you get out of personal or business debt once and for all.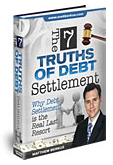 The 7 Truths of Debt Settlement: Why Debt Settlement is the REAL Last Resort. If you're thinking of working with a debt settlement company…don't, until you read this powerful special report from Matt Berkus. Inside you'll learn the real truth, most debt settlement companies don't want you to know. This information is MUST READ before you make any decisions about your debt! To get your copy, simply enter your information below then click the "request your copy now!" button. Your information will never be shared.